Talent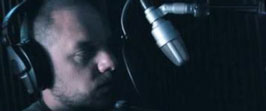 Juan Carlos Hernandez
Voice Over Talent/Creative Director-Copywriter
Juan Carlos is a native from Colombia where he obtained a bachelors degree in Advertising and Marketing.
His career started in Bogota working as a copywriter for Procesos Creativos Advertising agency. His passion for creativity and advertising led him to an interview in the USA, where in 1998 he was hired by Grupo Cuatro Publicidad, a Hispanic Advertising agency based in Dallas, Texas. There he worked as a copywriter on accounts such as Gatorade, Cap'n Crunch Cereal, Quaker Instant Oatmeal, Quaker Standard Oatmeal, Life Cereal, Aunt Jemima, Snapple, Daisy Sour Cream and Wolf Brand Chili. He then moved to Dieste & Partners where he became a Creative Director for many important national brands.
Along with his advertising career he developed a strong passion for Voiceovers, so he started preparing for this new venture. He can speak 3 Languages Spanish, English-NA with an accent and Italian. A native Spanish voice over talent from Bogota, Colombia with one of the purest and neutral accents. But he can also do different Colombian dialects, Argentinean, Mexican, Spaniard, or he will create the one you need. I can also do different voices, characters and tones.
Juan Carlos specializes in TV and Radio Promos, TV and Radio Commercials, Audio Books, Educational Videos, e-learning, Training, Corporate Narration, Broadcast Narration, Radio Station Imaging, TV Station Imaging, On-Hold messaging and audio production.
He is and has been the voice for a very well known pull of brands such as:
Chrysler, National Geographic, TXU, Gatorade, Disney, Ringling Brothers & Barnum and Bailey, Monster Jam, Kia motors, Texas Lottery, Cash America, Azteca America, Jarritos, DFW, Pizza Hut, Discovery Channel, Taco Bell, Xoom, ESPN Deportes, Helzberg Diamonds, Clamato, Starburst, CVS Pharmacies, Procter & Gamble, Blue Cross Blue Shield, M&M's, Advance Autoparts, Time Warner Cable, Comcast Cable, Giant Eagle, Hyundai, Shamrock Farm, HEB, Downey Nissan, Toyota, Kia, Hyundai, State Farm, Sun Stone Yoga, Time Warner Cable, Panini and AT&T among others. After many years, a successful advertising and voiceover career, and winning several creative awards, in 2007, Juan Carlos decided to start his own company in the broadcast V.O field, along with a freelance creative advertising side business, and his Voice Over career.
Juan Carlos is always looking to put his VO talent, creativity and experience to work on any new opportunities.
Contact ProVoice Greetings to use Juan in you next advertisement or other voice talent needs. Juan Carlos.